We have servers situated in data centers in North America and Europe. The facilities feature redundant UPS systems, generator backup, VESPA detection systems, closed circuit monitoring of all areas and entrances, card key access, 24 hour guard manned security, redundant a/c systems, and fiber from multiple seperate providers.
The front door must be opened by the security guard who is on duty 24/7/365. Movement throughout the facility must be escorted at all times. There is no other entry door into the facility with the exception of the loading door which is protected by a roll down door and may only be operated with a security officer present.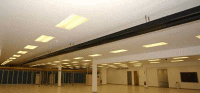 There is a camera on a track inside the smoked housing. It is controlled by security and can run from end to end and looks to both sides. It is one of over two dozen cameras located throughout the facility that are continually monitored. It is the guards responsibility to know at all times who is in the building and where they are.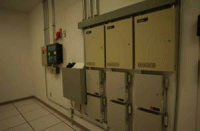 The black box with blue labels is the VESDA system, which stands for "Very Early Smoke Detection System". It is also monitored by the NOC personnel and will detect trace particles in the air that alert them to the presence of a problem before it becomes too serious. There are also monitors here for the UPS and generators.
The main power comes in to the facility directly from the outside transformer. Total incoming power is 480V. This is a lot of power and could also power an expansion of over double the current space size. There are also a number of UPS systems and generators to ensure that the servers do not go offline.
North America Data Centers
Our US Servers are located in Data centers in Dallas and Houston, Texas, Washington DC as well as Sacramento and San Jose in California.
There are more than 16 fiber providers with a physical presence in Dallas. This allows us to provide diverse connectivity with approximately 8,700 strands of fiber entering the building and bandwidth capacity approaching 26 trillion bytes per second.
Fully redundant (2N) electrical power is supplied via four independent TXU substation feeders. Full power reliability is provided through six in-building main switchgear rooms. Four main switchgear feed each quadrant with 480-volt service through multiple 4,000 AMP electrical risers.
Five 1,500-ton centrifugal chillers provide redundant (2N) chilled water to the HVAC system with 24×7 availability.
Data center peers
List of data center peers in the US and Europe
UNITED STATES
EUROPE

AT&T
Abovenet
Comcast
Equinix
Global Crossing
Internap
Level 3
NTT America
Qwest
Telefonica
TeliaSonera
Time Warner

Noris Network
Deutsche Telekom
LambdaNet
DE-CIX
Tiscali
KPN EuroRings
N-IX
If you have any specific questions about the data centers , please contact us.